Living In America
Like other immigrants, Arab Americans came to this country looking for a better life for themselves and their families. Early Arab immigrants worked as peddlers, grocery storeowners, and manual laborers. Later immigrants often arrived with more professional training such as doctors and engineers.  
Arab Americans are remarkably diverse, living in rural and metropolitan areas. Some are upper and middle class, whereas others are struggling workers with limited incomes. Some Arab Americans are born in this country to American-born parents and grandparents and have a limited knowledge of the Arabic language; others are recent immigrants who are fluent in Arabic but speak little English. 
Religion
Arab Americans are religiously diverse, much like the Arab world. Although the earliest immigrants were mostly Christian with smaller numbers of Muslims, today the Arab American community is comprised of Christian, Muslims, Druze, Jews, Mandaen and other faiths, along with secular identities. 
Six Arab Americans talk about what their religion means to them: 
Entrepreneurship
Entrepreneurship has a long history in the Arab American community. From dry goods stores, clothing shops, and cafes on the streets of New York in the 1890s, to restaurants, grocery stores, and large corporations across the United States, Arabic speaking immigrants have always found value and success in establishing businesses. Many iconic brands were started as small businesses run by Arab Americans—Haggar, Philz Coffee, Kinko's, BioSilk hair products, and Joy Ice Cream Cones, just to name a few.
Haggar Clothing Co.
Born in 1892 in the mountains of Lebanon, Joseph Haggar headed to North America at age 13, beginning his new life in Mexico as a penniless immigrant. There, he worked as a peddler and developed his skills as a salesman in both Spanish and English. After moving to the U.S., Joseph started his own business in Texas. In 1970, Haggar changed the way men dressed by introducing double-knit slacks at popular prices. More than 90 years after its founding, the Haggar Company is still one of the world's largest apparel manufacturers. 
Rana El Kaliouby
Rana El Kaliouby pioneered emotion-recognition technology as co-founder and CEO of Affectiva. Her interest started while working on her Ph.D. at Cambridge University. Away from her family and friends in Egypt, El Kaliouby wished her computer could better convey her emotional state. Her technology accurately reads minute changes in facial expressions that convey emotions, making it applicable to people with physical disabilities. El Kaliouby worked as a research scientist at Massachusetts Institute of Technology and is a member of the Women in Engineering Hall of Fame. 
Food
For over a century, Arab immigrants have brought with them their foods, their culinary practices and traditions. Arab Americans have shared their foods through restaurants, bakeries, grocery stores, cookbooks and ethnic food festivals. There are likely thousands of Arab American restaurants and bakeries across the country. Over time some Arabic foods, such as hummus, falafel and pita bread, have been adopted and adapted into American cuisine.
Hamady Bros
In 1911, cousins Kamol and Michael Hamady founded the Hamady Brothers' Grocery in Flint, Mich. At its height, the brothers ran a chain of 39 stores, dominating the Flint area and employing up to 1,300 people. Members of the Hamady family operated the stores for over 60 years.
Arab American Restaurants
Some of the first businesses Arab immigrants opened were cafes that gave the immigrant community a taste of home. Arab Americans have branched out into other types of food establishments, from bakeries to American-style diners and fine dining steakhouses, while also serving traditional dishes from their home countries. 
Activism
From raising funds for humanitarian aid during WWI and protesting U.S.-led wars in Arab countries, to supporting environmental issues, women's rights and racial equity, Arab Americans have fought for progress for more than a century.
TAKE ON HATE
Founded in 2014, ACCESS' Campaign to TAKE ON HATE opposes and stands against all forms of hate and bigotry toward any group of people, but is especially focused on discrimination and misconceptions of Arab and Muslim Americans.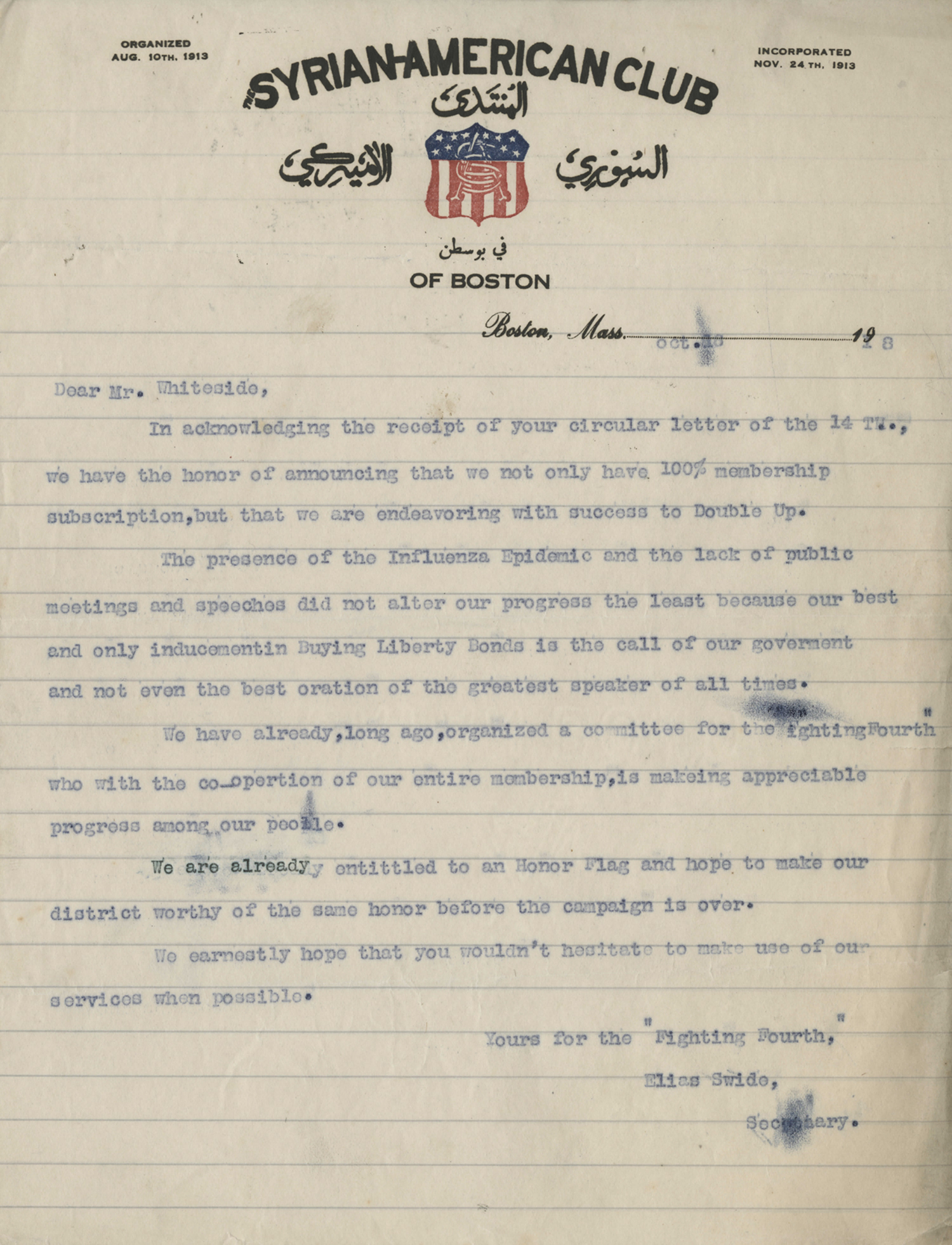 Early Syrian Organizing
Liberty loans, or war bonds, were sold in the United States to support the allied cause during World War I. Purchasing the bonds was heralded as a patriotic duty. This 1918 letter from the Syrian American Club of Boston to the Chairman of the N.E. Liberty Loan Committee details how the Syrian American committee supported the cause.
Resources for Educators 
AANM is pleased to offer free activities and resources for educators and their classrooms.