Some Arabic speakers arrived in North America among other enslaved Africans beginning around 1528. There is very little record of these early Arabs in what is now known as the United States. Some Arabs traveled to the U.S. as merchants and adventurers in the mid-to-late 1800s. 
Arab American immigration can be categorized into four periods, beginning in the 1880s. The stories below exemplify the diversity of immigration during each period, as well as the changing immigration laws and conditions in Arab countries that contributed to this migration. 
First Period (1880s to 1924)
Between 1880-1924, an estimated 20 million immigrants from around the globe came to America. As part of that period, an estimated 95,000 Arabs came from what was known as Greater Syria, which included the present-day countries of Syria, Lebanon, Jordan and Palestine. Smaller numbers of Arab immigrants also came from Yemen, Iraq, Morocco and Egypt. By 1924, approximately 200,000 Arabs were living in the United States.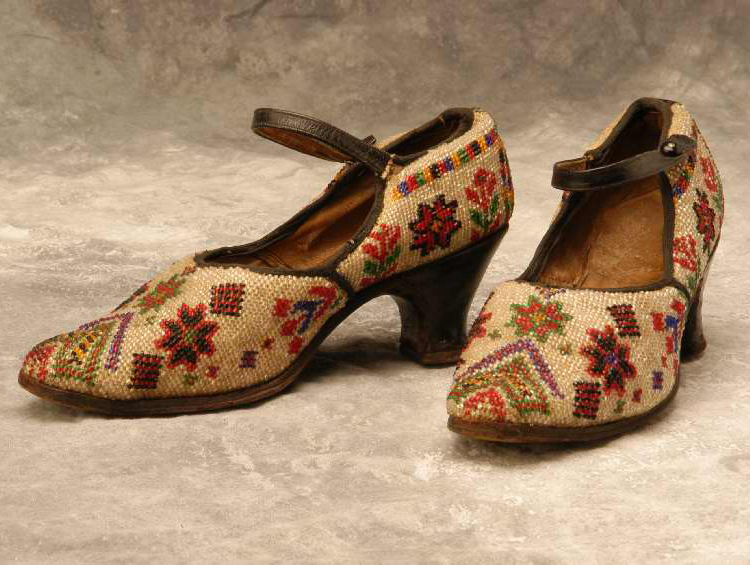 Sara Abdallah
When Sara Abdalla left Syria in 1923 en route to the United States, she had no idea that her journey would lead her to cross the Atlantic three times before reaching her final destination. One of thousands of immigrants denied immediate entry because of a failed eye exam,; Sara and her daughter Rose were sent back to France. Her husband, Dib, who was living in Detroit at the time, sought his congressman's help, who assisted in returning Sara and Rose to America. 
Leon Peter Boutros Holwey
In 1893, Syrian Leon Peter Boutros Holwey traveled to the U.S. for the World's Colombian Exposition as a representative of Egypt. Holwey spent years building an inlaid mosaic palace made up of more than two million pieces to be exhibited at the exposition. Afterward he remained in North America, traveling to Mexico and throughout the United States where his family also immigrated.
Second Period (1925-1965)
Economic decline during World War I gave rise to anti-immigrant sentiments. In reaction, the U.S. Congress passed several laws including the 1921 Quota Act and the Immigration Act of 1924, placing restrictions on immigrants not from northern or western European countries. After 1924, there was a drastic decrease in the arrivals of new Arabic-speaking immigrants. However, there are stories of Arab immigrants to the U.S. that are not clearly reflected in the official records - such as Palestinian Refugees after 1948, and laborers from Yemen.
Ahmed Ibrahim
In 1948, Ahmed Ibrahim and his family were forced to leave their home and farmlands in Jimsu, Palestine, following the declaration of the State of Israel. They fled to the West Bank, where they lived in a tent near Ramallah. In 1953, he was sponsored by a cousin in Brooklyn under the Refugee Relief Act, and the family was finally reunited in the United States in 1966.
Nagi Daifullah
Nagi Daifullah emigrated from Yemen and found employment in the grape fields in California's Central Valley. He learned Spanish and English and mediated between workers within the United Farm Workers Union, seeking better working conditions. He was a strike captain under Cesar Chavez and was killed by police during a protest in 1973. 
Third Period (1966-1990s)
The third period of immigration ramped up in the early 1970s, after the passage of the Hart-Celler Immigration and Nationality Act in 1965. Approximately 400,000 Arabs joined many others from around the world in coming to the U.S. to start new lives. Many Lebanese fled civil war, Palestinians left refugee camps, and others arrived in the U.S. from all over the Arab world. This period brought people who had a stronger sense of a broad Arab identity. Arab immigrants in this period also included many highly educated professionals as well as students, who were offered jobs and ended up staying in the country permanently.
Fateh family
This Palestinian embroidered dress (also called abaya or thobe) shows modern tatreez designs including the Dome of the Rock mosque and Palestinian flag. It was created by Halima Abdel Fateh who immigrated in 1976. The family settled in Dearborn, Michigan. 
Hijaouy family
In 1985, Jalil Hijaouy left Morocco to pursue higher education. He settled in California where he earned a bachelor's degree in Business Administration and a master's in English. Every two years Jalil would return to visit his family in Casablanca. There he met his wife Naima, and they were married at a traditional wedding ceremony in 1995. They returned to California where Jalil is a high school teacher. 
Fourth Period (1990s-present)
In the fourth period, political push factors have increased Arab immigration, further diversifying the Arab American community. Beginning in the 1990s, the number of Iraqis, Somalis and Sudanese in the U.S. grew from relatively small numbers to thousands annually as people escaped wars and starvation. Iraqis fled their homes due to U.S. Military involvement, the rise of Daesh (also known as the Islamic State), and other violence and war. Economic difficulties, unemployment and population pressures were significant reasons for Egyptians, Moroccans and Jordanians to immigrate at the turn of the century and specifically following the Arab Spring revolutions that began in 2010. 
Mohamed family of Flint, Michigan
The Mohamed Family moved from Sudan to the U.S. on July 4, 1993, and lived in Flint, Mich. There, they joined a growing and vibrant Sudanese community. Rasha Mohamed, the youngest daughter, was always fascinated with the colorful dresses, or thobes, that the Sudanese women wore at the many large celebrations. Listen to her story.
Aljaberi family of Arizona
When the U.S.-led Gulf War began in 1991, Layla Aljaberi and her children left their home in Baghdad, Iraq, and took refuge in a small village. Two months later, after the end of the war, they returned to their home. Fearing political repercussions, the family soon fled to Saudi Arabia, where they lived in refugee camps. In 1992, Layla and her children came to the U.S. with 500 other Iraqi refugee families.
Resources for Educators 
AANM is pleased to offer free activities and resources for educators and their classrooms.